Raisecom's Semi-passive CWDM solution stood out from the crowd of bidders as one of the few selected vendors with absolute advantages and a comprehensive performance and good prices.
5G fronthaul requires a lot of bandwidth to be delivered through optic fibers. In view of that, China Mobile Zhejiang Branch issued its procurement bid for Semi-passive CWDM in 2020 Q1, indicating CMG's intention to apply Semi-passive CWDM in the field of wireless fronthaul. As one of the successful bidder, Raisecom has won 30% of the total bidding for 4500 units Semi-passive CWDM equipment. The awarded equipment is expected to be used for China Mobile Zhejiang Branch 5G base station construction in 2020, coverage network monitoring, fronthaul service protection and fiber optic resources optimization.

Raisecom Semi-passive CWDM system is mainly dedicated to solve the problem of shortage or serious consumption of wireless fronthaul fiber optic resources. It adopts an asymmetrical equipment form, consisting of local active CWDM equipment, remote passive CWDM equipment, DU-side colored optical module, AAU-side colored optical module, and network management system. The Semi-passive CWDM equipment provides protection and auto-switching mechanisms to guarantee the manageability and operability of the fronthaul network. The local active CWDM equipment and the remote passive CWDM equipment can multiplex multiple wavelengths for transmission to save fiber optic resources. Simultaneously, it can support hybrid transmission of 4G/5G services to realize the unified fronthaul.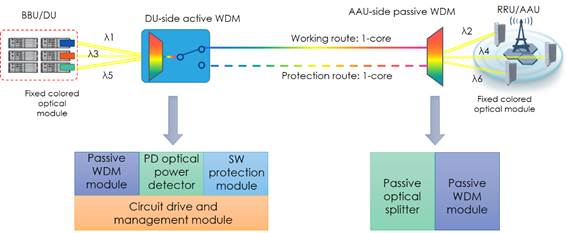 In recent years, Chinese telecommunication market has entered a period of accelerated construction of 5G base stations. Anticipating the 5G evolution worldwide, Raisecom is continuing our RnD investment and efforts in 5G fronthaul products and solutions. On the technological front, Raisecom is devoted in improving the CWDM solution with Semi-passive WDM solutions to further enhance capacity, line protection, wavelength inventory and overall manageability. Raisecom is confident that its products can meet requirements of various X-haul networking access, making it feasible to build a 5G fronthaul network cost-effectively.